RG-RAP2260(G) Wi-Fi 6 Dual Band Ceiling Mount Access Point
Ruijie Reyee RG-RAP2260(G) is a high-performance entry Wi-Fi 6 AP for indoor large-area Wi-Fi coverage scenarios. The device supports 802.3af/at PoE and 12V DC local power supply. The dual LAN ports design facilitates the expansion of third-party devices to meet the needs of more networking scenarios. Compliant with 802.11a/b/g/n/ac/ax Wi-Fi protocol, RG-RAP2260(G) supports MU-MIMO dual-stream technology and offers built-i n omnidirectional antennas. It can operate concurrently at 2.4GHz and 5GHz, providing high-speed wireless access of 574Mbps at 2.4GHz, 1201Mbps at 5GHz and up to 1775Mbps per AP. Its coverage of over 20 meters makes it an ideal choice for many wireless scenarios, especially in offices, commercial industry, hotels, service scenarios, etc.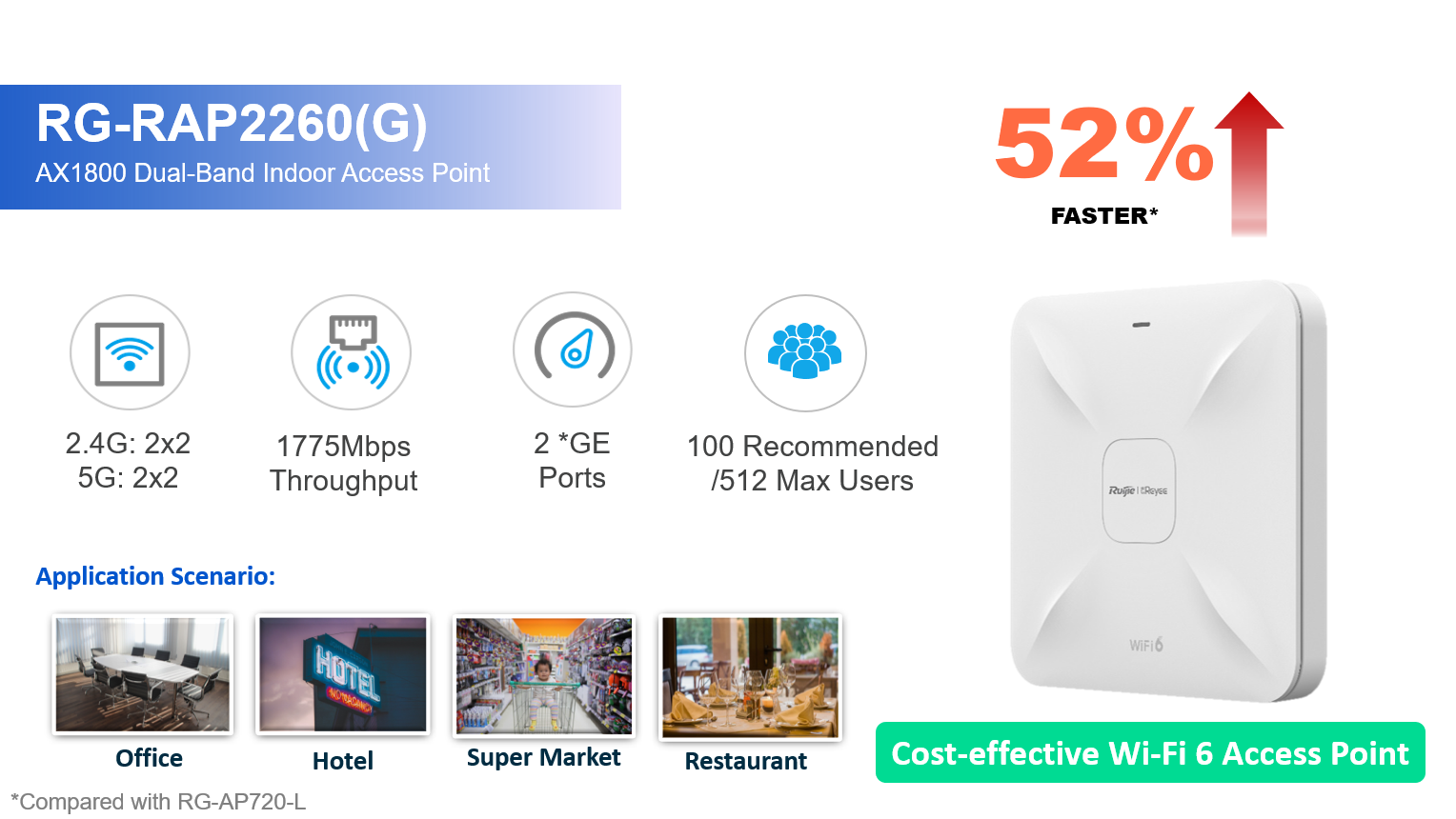 Reyee 2021 New Indoor Access Point
Innovation, Wi-Fi 6
A Big Leap Forward in Wireless Experience
802.11ax(Wi-Fi 6) adopts the OFDMA, 1024QAM, MU-MIMO and other multiple key technology.
Supports faster speed, more concurrent users with lower multi-users network delay.
For RG-RAP2260(G), both 2.4GHz and 5GHz comply with Wi-Fi 6 standard.
BSS Coloring
Intelligent Anti-jamming*
TWT
Terminal Energy Saving*
Performance Upgraded
Recommended Concurrent Users Up to 100
Dual-Band, dual Stream, AX1775 throughput, all gigabit ports.
Upgraded performance for higher bandwidth and better Wi-Fi experience requirements.
Model
Wireless Speed
Port
Concurrent Users
(Recommended/Max)
RG-RAP2260(G)
1775Mbps
2 GE LAN
100/512
One Little Detail,
More Scientific and Technological Sense
More Details, More Possibilities
Dual LAN Port
RG-RAP2260(G) supports 2 gigabit ports for uplink and LAN extension.
The shell is made of novel flame retardant material, and its strength is 5 times higher than common ABS
Tensile Strength
Increased by 30%
Non-directional Mount KitFlexible installation for all scenarios.
Layer 3 Roaming
Wherever You Are, You Get Full Signal
Roaming smoothly between APs which in different VLANs
Financial Department
Sales Department
CEO Office
Meeting Room
Self-Organizing Networking
Set Up a Wireless Network in 3 Minutes Easily
Fear not about too many APs, switches or routers, all Reyee devices are auto-provisioning supported.
Setting up a network via mobile APP will only take you 3 minutes.
Model

RG-RAP2260(G)

Hardware specifications

Radio

Dual-stream dual-band

Protocol

Concurrent 802.11ax, 802.11ac wave2/wave1, 802.11a/b/g/n

Operating Bands

802.11b/g/n/ax :2.4G ~ 2.4835GHz 

802.11a/n/ac/ax : 5G:5.150~5.350GHz,5.725~5.850GHz (country specific)

Antenna

Internal antennas(2.4G: 3dBi,5G: 3dBi)

Spatial Streams

2.4G 2x2MIMO  5G 2x2MIMO

Max Throughput

Up to 574Mbps at 2.4G

Up to 1201Mbps at 5G

1.775Gbp per AP

Modulation

OFDM:BPSK@6/9Mbps,QPSK@12/18Mbps,16QAM@24Mbps,64QAM@48/54Mbps  DSSS:DBPSK@1Mbps,DQPSK@2Mbps,and CCK@5.5/11Mbps

MIMO-OFDM:BPSK,QPSK,16QAM ,64QAM,256QAM and1024QAM  

OFDMA

Receive Sensitivity

11b:-96dBm(1Mbps),-93dBm(5Mbps),-89dBm(11Mbps)  

11a/g:-91dBm(6Mbps),-85dBm(24Mbps),-80dBm(36Mbps),-74dBm(54Mbps)  11n:-90dBm(MCS0),-70dBm(MCS7),-89dBm(MCS8),-68dBm(MCS15)  

11ac:20MHz:-88dBm(MCS0), -63dBm(MCS9)  

11ac:40MHz:-85dBm(MCS0), -60dBm(MCS9)  

11ac:80MHz:-85dBm(MCS0), -60dBm(MCS9)  

11ax:80MHz:-82dBm(MCS0), -57dBm(MCS9),-52dBm(MCS11)

Maximum Transmit Power

5.725~5.850GHz:≤20dBm (EIRP)

5.150~5.250GHz:≤20dBm (EIRP)

2.4~2.4835GHz:≤20dBm (EIRP)

Adjustable Power

1dBm

Dimensions

194mm×194mm×35mm (excluding mounting kits)

Weight

0.56kg (excluding mounting kits)

Service Ports

2 10/100/1000Base-T Ethernet ports, PoE/LAN1 port supports PoE

Management Port

NA

LED Indicator

Single indicator (green light)

Power Supply

Local power supply, DC 12V/1.5A (Note: The power adapter is sold as an optional accessory)

802.3af/802.3at PoE

Power Consumption

≤ 15.3W

Environment

Operating temperature: 0°C~40°C

Storage temperature: -40°C~70°C

Operating humidity: 5%~95%(non-condensing)

Storage humidity: 5%~95%(non-condensing)

Installation

Ceiling/wall-mountable

Safety Standard

GB4943, IEC 62368-1

EMC Standard

GB9254,EN301 489,EN50155,EN50121,EN55032,EN61000,EN55035

Vibration Standard

IEC61373

Radio Standard

EN300 328, EN301 893

MTBF

>400000H

Software Features

 

Operating Mode

AP mode and routing mode

WLAN

Maximum number of clients: 512

Recommended number of clients: 100

Up to 8 SSIDs

Support SSID hiding

Configuring the authentication mode, encryption mechanism, and VLAN attributes for each SSID

SSID-based and radio-based STA limit

Support Layer 2 user isolation

Roaming

Support Layer 2 and Layer 3 roaming

Security

Support PSK authentication

Support static blacklist and whitelist

Support WPA (TKIP), WPA2 (AES), and WPA-PSK data encryption

Routing

Support static IP address, DHCP, PPPoE Dial Up

Management and maintenance

Support unified networking of all network equipment

Support local or remote management with Ruijie Cloud app

Support local management with web

Support remote management with Ruijie Cloud platform

Platform management features

Automatic RF adjustment via the platform

Unified configuration via the platform

Unified monitoring via the platform